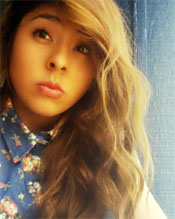 Gordon Faber Scholarship Recipient 2013
Yabilex Ramirez-Florian, a recent graduate from Glencoe High School, is the recipient of the $2,500 2013 Gordon Faber Scholarship for healthcare education. Ramirez-Florian was selected through a competitive application and interview process from among five finalists representing each of Hillsboro's public high schools. She will attend Concordia University in the fall and plans to become a registered nurse.
"My life goal is to provide physical and emotional care for the sick and infirmed as a nurse. The HCF Gordon Faber Scholarship will help me attain my education and fulfill my dream of helping people. I am proud that my commitment to the community and academic achievement has earned me this honor," said Ramirez-Florian.
Overcoming language barriers herself, Ramirez-Florian has devoted her volunteer time to ESL Community Services utilizing her bilingual skills to interpret and translate for students, parents and teachers. She has also taught reading and study skills to elementary school students through the Nike Summer Literacy Program for which she received recognition as Teacher of the Month. A member of the National Honor Society, Ramirez-Florian is the recipient of numerous academic and community service awards including the Glencoe High School Principal's Award and Parent Outreach Award. She was a member of MEChA (Movimiento Estudiantil Chicano de Aztlán) a student organization that promotes higher education, leadership and community service within the Latino community and also a volunteer for the Glencoe High Diversity Club that fosters greater understanding and appreciation of cultural diversity.
"All of the finalists were impressive and it was a difficult decision. Ramirez-Florian's commitment to the community, academic excellence and extracurricular achievements contributed to her earning this distinction." said Funda Kelsay, HCF Board member and member of the HCF Scholarship Committee. "Her desire to care for others is deep and genuine and she has the intelligence and commitment to make her goal of becoming a nurse a reality."
The Gordon Faber Scholarship was established in 2001 in recognition of former Hillsboro Mayor Gordon Faber's service to the community. The scholarship fund and program is managed by HCF that supports organizations and programs to enhance the quality of life in greater Hillsboro.
© Hillsboro Community Foundation | All Rights Reserved | 2023