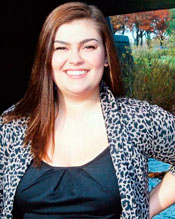 Gordon Faber Scholarship Recipient 2014
LeighAnn Loose, a recent graduate from Glencoe High School, is the recipient of the $2,500 2014 Gordon Faber Scholarship for healthcare education. Ms. Loose was selected through a competitive application and interview process from among finalists representing each of Hillsboro's public high schools. She will attend Western Oregon University in the fall and plans to become a nurse and pursue a career in the military. "I love working with people and helping them when they are in need. I have compassion and empathy for others, which is why becoming a nurse is the right career path for me, and I also want to serve my country, which has already afforded me so many opportunities in my young life. The HCF Gordon Faber Scholarship will help me attain my education and fulfill my dream of helping people. I am proud that my commitment to the community and academic achievement have earned me this honor," said Ms. Loose. A first generation high school graduate, Ms. Loose is self-motivated and considers pursuing an education both a privilege and responsibility. In addition to her rigorous class schedule, Ms. Loose has volunteered for her Church, Oregon Food Bank, the Hillsboro Girls Softball Association, Lacey's House of Dreams and the American Red Cross while also working to save funds for college. Ms. Loose has also volunteered to assist ELL students with both language and assimilation at Glencoe High School. She has balanced her life with extracurricular activities including sports and theater, which have provided her with a keen sense of how to be a dependable part of a team.
The Gordon Faber Scholarship was established in 2001 in recognition of former Hillsboro Mayor Gordon Faber's service to the community. The scholarship fund and program is managed by HCF that supports organizations and programs to enhance the quality of life in greater Hillsboro.
© Hillsboro Community Foundation | All Rights Reserved | 2022