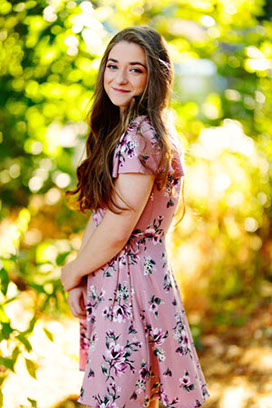 Gordon Faber Scholarship Recipient 2021
Olivia Prichard, a graduate from Glencoe High School, is the 2021 recipient of the Gordon Faber Scholarship for healthcare education.
Throughout high school Olivia was recognized and honored for her stellar academic performance. What she accomplished outside of the classroom was equally impressive; she is an avid volleyball player who captained her team for three years through numerous high-stake competitions, a competitive team gymnast from an early age, and a dedicated equestrian. In addition to these athletic commitments, Olivia was also a member of the Glencoe's acclaimed concert choir for three years.
Olivia fit these extracurricular pursuits in between hundreds of hours of community service including leading summer camps at Jackson Bottom Wetlands Preserve, participating in park and trail clean-ups with Hillsboro Parks and Recreation, counseling with Oregon Outdoor School, and teaching 6th graders about the local ecosystem. Committed to attaining her higher education, Olivia also worked during her high school years to save funds for tuition.
While she has wanted to be a nurse since seventh grade, Olivia decided to confirm her career path choice with enhanced learning experiences including observing open heart surgery and participating in nursing job shadows. These real-life experiences reinforced her commitment and dedication to the nursing profession. Good for us all, she remains committed and dedicated to the nursing profession.
Olivia was selected through a competitive application and interview process from among finalists representing each of Hillsboro's public high schools. She will pursue her bachelor's degree in nursing through the OHSU partnership program at Eastern Oregon University.
The Gordon Faber Scholarship was established in 2001 in recognition of former Hillsboro Mayor Gordon Faber's service to the community. The scholarship fund and program is managed by HCF that supports organizations and programs to enhance the quality of life in greater Hillsboro.
© Hillsboro Community Foundation | All Rights Reserved | 2023