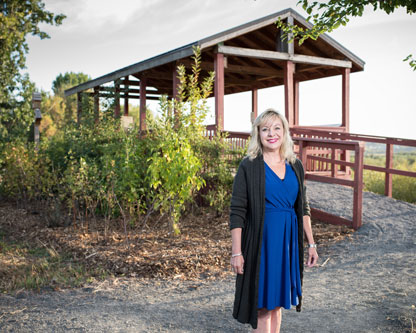 Deanna at the viewing shelter, Jackson Bottom Wetlands Preserve
Deanna Palm
Deanna is president of the Greater Hillsboro Area Chamber of Commerce, an organization she has served since 2001. Combined with her tenure at the Portland Metropolitan Chamber of Commerce, Deanna has more than 30 years of chamber experience.
As a chamber president, Deanna is often asked to share her expertise by serving on the boards of other local organizations, and when the request came in 2003 for her to join the board of the Hillsboro Community Foundation, it was one she didn't hesitate to accept. She identifies the potential of this organization as a means to ensure a sustainable community for future generations - like her own two children whom she hopes might choose to settle here and raise families.
Deanna points to the efficiency of the Foundation as a hub for managing multiple community projects - often involving several other organizations or government agencies - while minimizing duplication of effort across groups. She also values the Foundation as an important vehicle for raising awareness of the many community-based non-profits in the area, and serving as an initial point of contact for philanthropic efforts.
As a board member of the Foundation, Deanna has helped raise funds and friends for the Foundation. She currently serves as Treasurer and chairs the Foundation's Governance Committee. Deanna is also an advisory council member of the Hillsboro Schools Foundation, a member of the Hillsboro Rotary Club and on the Board of the Workforce Investment Board for Region 2. In 2009, Deanna was appointed to the Portland Community College Board of Directors and was re-elected to that position in 2011 and again in 2015.
Deanna and her husband, David Palm, met while attending high school in Banks. Both are native Oregonians and have spent most of their lives in Washington County where they raised their two children.
© Hillsboro Community Foundation | All Rights Reserved | 2023