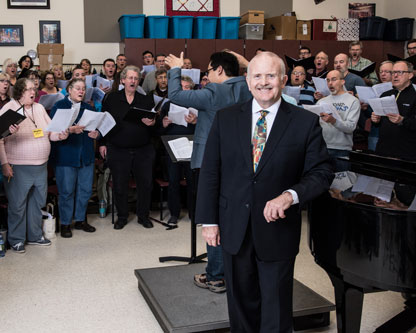 Fred at an Oregon Chorale rehearsal
Fred Johnson
Fred is the executive vice-president and chief credit officer of Premier Community Bank. He is a member of the Hillsboro Rotary Club, serves on the Hillsboro Rotary Foundation board, and serves on the finance committee of Community Action Organization.
Fred was born and raised in Hillsboro, and aside from the 15 years he spent in southern Oregon, has lived in the community all his life. Fred's spirit of service comes naturally as the son of Grant T. Johnson, a longtime leader within the Hillsboro community and early champion of the Hillsboro Community Foundation.
Fred first learned of the Foundation's work through his father, who was involved in several of the organization's projects. Through Grant and through the connections Fred shared with several of the Foundation's board members, he could easily recognize both the quality of the Foundation's leadership, and the quality of its work. From the creation and improvement of parks, to scholarship opportunities for our young people, Fred wanted to be part of this organization that makes Hillsboro a better place to live.
Fred has been a board member of the Hillsboro Community Foundation since 2001, and has also served as its president. He has been involved in all of the organization's sponsored projects, and has supported its signature project - the Glenn and Viola Walters Cultural Arts Center - by soliciting donations and giving of his and his wife's own financial resources. Fred has also participated on the Foundation's selection committee for distribution of Gordon Faber Scholarship funds, and has interviewed prospective organizations wishing to utilize the Foundation as a catalyst for their own fundraising efforts.
Fred views the role of the Foundation as two-fold. One aspect is the proactive promotion of charitable giving within the local community. The other is to help potential donors more easily identify and select worthwhile organizations to receive their contributions.
Fred is married to Letha A. Johnson, and together they have three children, Stacy El Moussi, Kevin and Mackenzie Johnson, and two awesome granddaughters.
© Hillsboro Community Foundation | All Rights Reserved | 2023