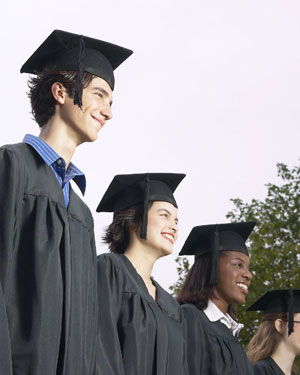 Gordon Faber Scholarship for Health Education
When Gordon Faber retired after governing as Hillsboro's mayor from 1992 to 2001, local citizens wanted to honor his commitment to the City in a very special way. As a result, the
Gordon Faber Scholarship was established.
One scholarship is awarded each year to a student pursuing a career in the healthcare profession. Each of the five local high schools may select one "Gordon Faber Scholar" to compete district-wide for the scholarship award. A selection committee including representatives from the Faber family, the City of Hillsboro, the Hillsboro School District, the Hillsboro Community Foundation, and a member of the community at large, conduct interviews with the scholars and select a winner.
Underestimating the volume of contributions that would be collected, it was thought the program would continue for a few years until monies were depleted. Donations, however, totaled approximately $40,000 and were turned over to the Hillsboro Community Foundation for investment and management as a self-perpetuating scholarship fund.
HCF administers this scholarship selection process.
Scholarship Recipients
2021
Glencoe High School
2020
Hillsboro High School
2019
Century High School
2018
Century High School
2017
Hillsboro High School
2016
Century High School
2015
Liberty High School
2014
Glencoe High School
2013
Hillsboro High School
2012
Dulce Flores Cruz
Hillsboro High School
2011
Maria Brenda Ramirez-Florian
Glencoe High School
2010
Marissa VanDyke
Glencoe High School
2010
Lindsey Wentworth
Hillsboro High School
2009
Yadira Tellez
Glencoe High School
2008
Alisha Fowler
Hillsboro High School
2007
Rose Clawson
Liberty High School
© Hillsboro Community Foundation | All Rights Reserved | 2023