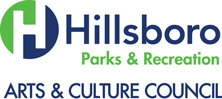 Hillsboro Arts and Culture Endowment
Hillsboro Arts and Culture Endowment
The last few years have seen extraordinary, first-ever developments in the cultural life of Hillsboro. New, professionally run organizations are finding a home and audience in Hillsboro; several restored or new theatres, galleries and venues are in operation and patronage of the arts is growing. There is a buzz about the arts in Hillsboro and that's good for local business.
If you are someone who is delighted and inspired by the arts and culture, we ask that you consider supporting the Hillsboro Arts and Culture Endowment to sustain and grow our local arts and culture community.
The Hillsboro Arts and Culture Endowment Fund established in 2012 will result in a sustainable long-term funding source to augment, not replace, the independent fundraising efforts of our valued arts organizations. This endowment fund was made possible because of the generous support of many people who recognize that a healthy arts and culture community enhances the quality of life in Hillsboro
Encouraging arts development in our city is the assignment of a government advisory group called the Hillsboro Arts and Cultural Council.
© Hillsboro Community Foundation | All Rights Reserved | 2023