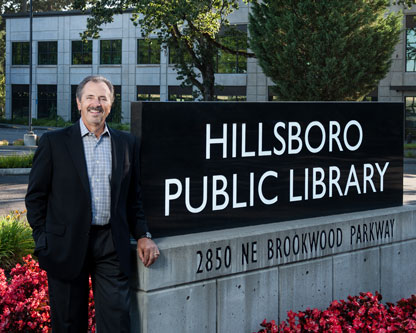 Jerry at the Hillsboro Brookwood Public Library
Jerry Willey
On January 6, 2009, Jerry Willey became the 49th Mayor of Hillsboro. Jerry has been actively involved in the Hillsboro community since 1983! Jerry believes in the "Hillsboro
Way" and maintains the commitment to continue the strong leadership demonstrated by our previous mayors. A healthy community requires a collaborative team of healthy schools, an educated workforce and a diversified employment base. He appreciates the
City's history of collaboration to "get right things done right" and plans to build on that reputation.
On January 3, 2017 Jerry concluded his eight year tenure as Mayor. In 2015, he received the Mayors Leadership Award from the Oregon Mayors Association. In 2016 he was presented the "Special Merit" award by the Hillsboro Chamber of Commerce and later that year received the James C Richards Memorial Award from the League of Oregon Cities.
Over his 33 years in Hillsboro, he has given back to the community in various ways. His involvement includes the Hillsboro School District Budget Committee, Oregon International Air Show Committee, Hillsboro Chamber of Commerce Finance Committee, past president of the Hillsboro Chamber of Commerce and past president of the Sunrise Rotary Club. Jerry is also active in a number of Hillsboro Rotary Club activities including Past Chairman of the Rotary Fourth of July parade for five years as well as being an active member at Beaverton Foursquare Church.
His government experience includes serving on the Hillsboro City Council from 1992 – 1997 and as Council President and the City's finance chairman. He has also served as President of the Library Foundation and Chair of the Hillsboro Library Board. In 1998 he was recognized as Hillsboro Citizen of the Year by the Hillsboro Chamber of Commerce.
© Hillsboro Community Foundation | All Rights Reserved | 2023