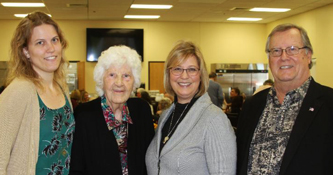 Four generations of the Les W. Davis Family: Paige Foelker, Betty Davis, Tami Foelker and Les Davis
Living Legacy Endowment
The Living Legacy Endowment was established with a leadership gift from the Les Davis family as an expression of gratitude for the good work of the Hillsboro Community Senior Center to provide meaningful and positive engagement opportunities for Hillsboro's older adults. Granddaughter Tami Foelker introduced grandmother Betty Davis to the Senior Center leading to new friends and many fulfilling and rewarding experiences for both.
The Endowment financially supports new and/or enhanced life enrichment programs that provide opportunities to promote community involvement, peer to peer and intergenerational connections, and lifelong learning for Hillsboro's older adults. The concept was inspired by the Les W. Davis family's practice of gathering young and older family members around "The Kitchen Table" to share ideas and stories. Tami Foelker shares that "the conversations around the kitchen table at my grandpa and grandma's house are forever etched in my mind and heart. The stories and conversations of life, love, sorrow and hope have deeply impacted my life.
"The Kitchen Table" is simply an intentional act of gathering around the table and encouraging conversations between older and younger generations with the hope of fostering relationships that enrich the lives of all involved, impact lives in a real and authentic way, and bring life, share love, and encourage hope in our community."
Donations to this fund are welcomed and appreciated by the Hillsboro Community Senior Center and the Les Davis and Foelker families.
© Hillsboro Community Foundation | All Rights Reserved | 2023