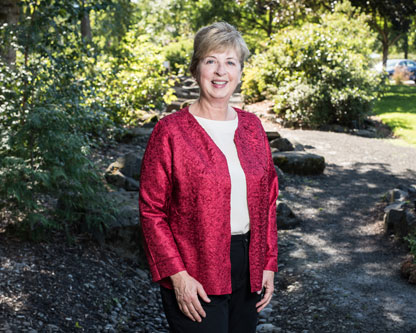 Mary in the Lloyd Baron Rhododendron Garden, Rood Bridge Park
Mary Ordal
Mary has been a Hillsboro resident since 1990, and has been involved in many of the Hillsboro Community Foundation's projects over the years through her former position as a Project Manager with the Hillsboro Parks and Recreation Department. She was inspired with the Foundation's outreach and grassroots fundraising efforts that lead to the acquisition of Noble Woods and its preservation as a park for future generations. The Foundation gave the community a voice, the opportunity and empowerment in saving this key natural area when others said it couldn't be done.
Mary worked closely with charter Foundation board member Lloyd Baron on the creation of the Lloyd Baron Rhododendron Garden at Rood Bridge Park. As with Noble Woods Park, the rhododendron garden idea was embraced by the community; donations of funds, plants and volunteer time exceeded expectations to bring it to reality. Today the garden features hundreds of rhododendrons from all over the world in the park's natural woodland setting. These and other projects demonstrate how the Foundation has helped people give back and create legacies of lasting value to the community.
Mary is generous with her time as a volunteer and has been involved in many community and civic organizations. She is on the board and past president of the Library Foundation of Hillsboro and helped with the capital campaigns for the new Main Library and renovation of Shute Park Library as well as the endowment and annual giving. As co-chair of the Sister City Association of Hillsboro, Mary helped to strengthen relationships between Hillsboro and its Sister City of Fukuroi, Japan, including leading student tour groups and hosting guests from Japan. She has been involved in the Hillsboro 2020 Vision and is past chairman of the Oregon Outdoor Recreation Commission.
Mary joined the board of directors in 2007 at the invitation of then President Rick Van Beveren and currently serves as Secretary to the Board. Now retired, she is a frequent volunteer and continues to advocate for community projects.
Mary and husband Joe Grillo are passionate about enhancing the quality of life in Hillsboro.
© Hillsboro Community Foundation | All Rights Reserved | 2023