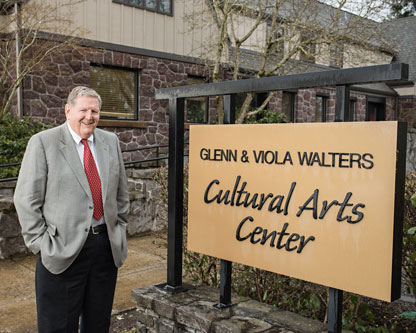 Ralph at the Glenn & Viola Walters Cultural Arts Center
Ralph Helzerman JR MD
Dr. Ralph Helzerman is a retired ophthalmologist who founded the Hillsboro Eye Clinic in 1973 with his partners. Born in Pendleton, Oregon, he was raised in southern Michigan and attended the University of Michigan for undergraduate and medical schools receiving his MD degree in 1967. He served his medical internship at OHSU and then served as a family physician as a captain with USAF at Travis AFB from 1968-1970. He returned to OHSU for his Ophthalmology residency completing his studies in 1973.
Ralph has lived in Hillsboro since 1973 with his wife Marilynn and four daughters. They have nine grandchildren. They have been active in supporting the arts in the Hillsboro community. Ralph has sung with the Oregon Chorale for over 20 years and serves on its advisory board. They continue to give financial support to Bag & Baggage, Hillsboro Schools Foundation and the Hillsboro Library. They contributed to the creation of Walters Cultural Arts Center, Jackson Bottom Wetlands, and Noble Woods. They have been active with the Hillsboro Hops hosting a total of 13 players in their home over the first four seasons of the Hops.
Ralph joined the Hillsboro Community Foundation Board in 2016 at the invitation of Deanna Palm. He viewed this as a vehicle to strengthen the arts in Hillsboro. Ralph's wife Marilynn has been an active leader in the community. She has served as president of Hillsboro Rotary Club and president of the Hillsboro Chamber of Commerce. She is a member of Hillsboro Arts and Culture Council and Arts Endowment Committee. She also serves on the Hillsboro Parks and Recreation Commission. In 2016 Ralph and Marilynn were honored by the Hillsboro Chamber of Commerce with the Philanthropic Leadership Award.
© Hillsboro Community Foundation | All Rights Reserved | 2023