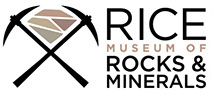 Rice Museum of Rocks
and Minerals Endowment
Rice Museum of Rocks and Minerals Endowment
Richard and Helen Rice established the museum in 1997 to showcase their 60 years of collecting rocks, gems, minerals, meteorites, and fossils. Their goal was to give students and visitors a deeper appreciation of the beauty and splendor of our Earth, with the ultimate goal of inspiring current and future generations to have a better appreciation of the role geology plays in some of the biggest challenges we face.
The Rice Museum established their endowment to benefit museum programs and operations and in 2020 the endowment was transferred to the Hillsboro Community Foundation for their stewardship. The goal of the endowment is to help leverage the museum's world-class rocks & minerals collection as teaching aids to give students an appreciation of the importance of earth sciences education. Many of the world's problems boil down to resource issues – fossil fuel shortages, water shortages, air, and water pollution challenges, and more. If more citizens have a solid earth sciences foundation, they can be more knowledgeable voters and citizens, making this a better world.
Reaching underserved populations in low-income areas is a primary goal and remains a top priority. Donations to the Endowment are greatly appreciated and will help further the work of the Rice family, the museum, and its programs.
© Hillsboro Community Foundation | All Rights Reserved | 2023