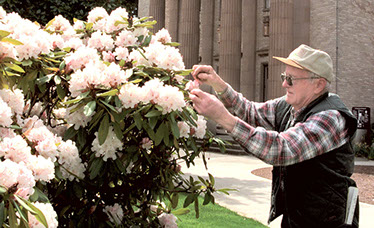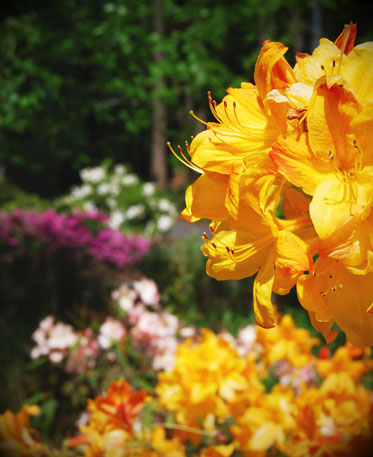 Rood Bridge Park
Hillsboro's Rood Bridge Park encompasses 61 acres of wooded areas, trails, meadows and creeks. It includes two tennis courts and a playground, and provides access to the Tualatin River for small watercraft. It is home to the River House, an enclosed space available to rent for small meetings and events, and the Lloyd Baron Rhododendron Garden.
Thanks to an $80,000 grant from the Dal L. Baker Charitable Lead Annuity Trust, the park also features three large covered shelters furnished with picnic tables and bench seating that can accommodate up to 100 people. The $80,000 grant was given to the Hillsboro Community Foundation. The city was able to leverage the Baker Trust grant to secure an additional $250,000 in grants to help complete this phase of the park. The Baker grant enabling the construction of the shelters is a good example of the kind of public/private partnership the Foundation works to promote.
Rood Bridge Park is also home to the scenic Lloyd Baron Rhododendron Garden, a two acre woodland garden with hundreds of species and hybrid rhododendrons. Inspired by the adoption of the rhododendron as the official city flower in 1963, Lloyd Baron had sought to create a public garden where people could enjoy and learn more about the many varieties of this plant, but an appropriate site was needed. Lloyd never gave up on the garden idea. Thirty-eight years later, Rood Bridge Park was identified as an ideal location and Lloyd recruited volunteers and donors to help build the garden in partnership with the City.
Lloyd was one of the founding members of the Hillsboro Community Foundation, and looked to HCF to serve as fiscal sponsor for garden expansion plans, including the development of a small pavilion overlooking the woodland pond and waterfalls at the heart of the garden. The community responded with more than $75,000 in donations. Today, the Trepha Baron Pavilion provides a place of serenity and tranquility, and is home to weddings and other special events. HCF continues to provide support for the rhododendron garden expansion and improvements.
© Hillsboro Community Foundation | All Rights Reserved | 2023