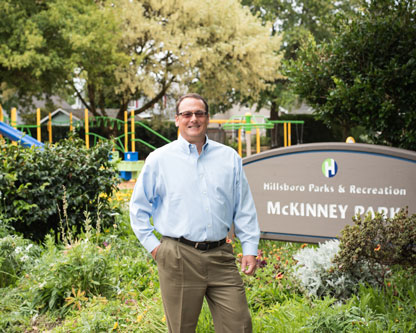 Scott Eisenstein owns and operates a law firm in Hillsboro, Oregon known as Nachtigal, Eisenstein & Associates. After being in a law partnership with Fred Nachtigal for twenty years, Eisenstein now operates the firm with the retirement of Nachtigal. The firm focuses its practice on estate planning, Wills, Trusts, Probate Administration, Real Estate matters and Personal Injury claims. Eisenstein is a member of the Oregon State Bar, Washington County Bar Association..
Since moving to the community over twenty five years ago, Scott has invested his energy in the Washington County Historical Society as the organization's counsel and as a member of its board of stewards. His family supports several other area organizations dedicated to culture, arts and education.
Eisenstein believes that the Hillsboro Community Foundation offers opportunities to match local donors with local causes. With the Foundation's Endowment Program, local families can make a positive impact locally for generations to come. Additionally, the Hillsboro Community Foundation is a great way to spread the word about the needs of our local community.
Eisenstein joined the board of the Hillsboro Community Foundation in 2006, and has recently served as the board's President. Scott lives and works in Hillsboro, and is married and has two adult children.
© Hillsboro Community Foundation | All Rights Reserved | 2023